HOW TO GET YOUR HUNTING OR FIREARMS LICENCE IN ONTARIO
We know that it's easy to get excited about buying your first gun or stepping into your blind for the first time, but there are some steps you need to follow before you can get to that point. It's not as simple as buying a deer tag or choosing a firearm, there are courses, licensing fees, and most importantly a lot of patience involved.
We know the whole process can be intimidating and maybe even a little bit confusing, but we hope to help simplify it for you so you can be prepared before you even get started. So, if you're looking to get your firearms licence, restricted firearms licence, or hunting licence, please take a look at the process below so you can make sure you've given yourself the time you need to get everything set up properly.

Step One: Choosing which Course You Need
There are three different licenses that you can obtain:
1. Hunting License
- Take the Hunter Safety course if you want to hunt game. You do not require a PAL to hunt if you're going to be bow hunting.
2. Non-Restricted Possession and Acquisition License (PAL)
- Take the Non-restricted Firearms Safety Course if you want to purchase or use NON-RESTRICTED Firearms (ex. shotguns and rifles)
- The Hunter Education is not required if you have no intention to hunt.
3. Restricted Possession and Acquisition License (RPAL)
- Take the Restricted Firearms Safety Course if you want to purchase or use RESTRICTED Firearms (ex. Handguns)
- The PAL course is a prerequisite to the RPAL course.
Depending on your goals, you may require one, two, or three different courses to obtain all of the licenses you want.
Step Two: Book your Course
As soon as you know which license you need, you can begin to look into your course options. Courses fill up fast so it can take a few months before you can secure a spot.
We offer the PAL course and the RPAL course here at That Hunting Store. The list of upcoming courses available on our website. New dates are added as they become available with our instructor. Please note, because these courses are in such high demand, we have a no refund policy. You are responsible for remembering to attend the course you register for and will not be reimbursed if you miss your course. We are unable to provide reminder calls or notifications so make sure you write down all of the relevant information at the time of registration.
Hunter Safety Courses are available directly from the Ontario Education Program online. You can find out how to register for the Hunter Safety Course on their website.
Full details of our policy are available on our courses page.
HOW TO REGISTER
By Phone - The Easiest Way to Register
Call us at 613-838-8828 and tell us which course you would like to register for.
Payment is required in full to register so have your credit card ready. [Remember, no refunds for course fees]
We will require your name, phone number, and email address. If the person you are registering is under 18, you must provide their age and a contact name for their parent or guardian.
Make sure to write down the confirmed date and times as we do not provide reminder calls or email confirmation.
If you are unable to provide a credit card over the phone, you can send an etransfer. Please note, until your etransfer is received you are not registered. Payment is required to hold a spot for the course.
By E-Transfer - If you do not have a credit card
Send an e-transfer to [email protected] with the password set to Richmond. The message of your transfer MUST INCLUDE the following information: The name and date of the course you want to register for, the registrants name, phone number, and email. If the person you are registering is under 18, you must include their age and a contact name for their parent or guardian. [Remember, no refunds for course fees]
We will confirm availability in the course you requested and if there are still remaining spaces we will accept the etransfer and register you. The reply from your bank showing that your etransfer was accepted will contain the confirmation of your booking in the message.
Make sure to write down the confirmed date and times as we do not provide reminder calls or email confirmation.
Step Three: Prepare for your Course
Once you've booked your course, it's important to record the date and time down somewhere. Put it as an appointment in your phone, mark it on your calendar, book it off or work, do whatever you need to do to remember the date. You're responsible for remembering your own course date, and will not be reimbursed if you miss your course. The instructor does not do any reminder calls, so it's up to you to remember.

Other things to keep in mind when preparing for your course:
Pack yourself a lunch because it's a long day. You're going to get a few breaks throughout the day, so bring yourself some food.
Bring your own pen to write your exam with.
If you have the reschedule your course, you MUST PROVIDE TWO WEEKS NOTICE. Last minute cancellations due to illness require a doctor's note. There are no refunds if you miss your course so make sure you keep it in your schedule.
Step Four: Attend the Course
Please arrive to your course at least 15 minutes before the scheduled start time as you will be required to fill in the appropriate paperwork and check in with the instructor with two pieces of ID.
Important note: Courses occasionally begin before the store's regular hours. The courses take place in our classroom (formerly the range entrance), which has a separate entrance around the back of the building that will be open for students.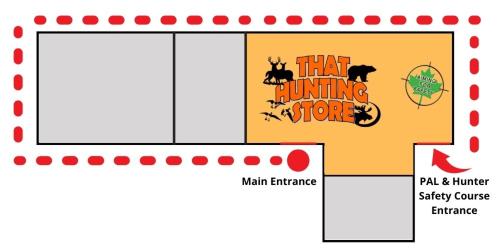 During your course, you'll watch videos, listen to the instructor's lecture, and take your exam at the end of the course. The instructor marks the exam right away and lets you know whether you have passed or failed.
Both types of Firearms Courses (PAL and RPAL) include a written exam and a practical exam. The practical exam includes tasks like ammo identification and gun safety, and you must pass both portions to pass the course.
If you fail the course, you will have to retake the course in its entirety and will be responsible for paying the entire fee again.
Step Five: Passing the Course
What happens next depends on the type of course.
Hunter Safety Course:
Once you've passed your only course and received your results, you're able to take those directly to the Ministry of Natural Resources to apply for your Hunting license right away.
Once you have your hunting license, you'll be able to buy your tags for your region, also known as a Wildlife Management Unit (WMU) and head out hunting all in the same day! For details on the different fees, visit the MNR website.
PAL & RPAL Courses:
The firearms courses are a little bit more involved when it comes to getting your license. Once you pass the course, the instructor will send the results to the Chief Firearms Officer to be verified. This process can take a couple of months depending on the volume received by the Firearms Safety Office. Please be patient while you wait for the official results to be mailed to you. If you are concerned about the status of your application, you can check in with the FSESO at 1-877-322-2345 extension 101 to see where your results are in the queue.
Once you have received the verified results, you can submit your application for a firearms license (or restricted license if you took the RPAL course) to the RCMP. The RCMP may take up to six months (or longer depending on volume) to approve your license. They will then mail you your firearms license or updated license with RPAL designation.
For more information on the fees involved with firearms Licences, visit the RCMP website.

Step Six: Keep an Eye on the Expiration Date
Your Hunting license needs to be renewed every three years and your PAL/RPAL needs to be renewed every five years. Make sure you stay on top of the renewal dates and get your applications into the appropriate authorities before it's too late. You wouldn't want to find the perfect firearm on sale only to learn your firearms license is expired, would you? Also, verify the information in the Individual Web Services to make sure your email, phone number, and address remain up to date.
If you have any further questions about your Hunting or Firearms Licences, visit the MNR or RCMP websites. You can also contact us and we'd be happy to assist you the best we can.